advancing therapeutic peptides
Clinical Peptide Society
Our Mission 
To be the preeminent professional society dedicated to advancing clinical applications of therapeutic peptides in medicine by:
 Sharing basic and applied scientific studies, offering educational programs, and creating a registry of clinical case studies
Promoting collaboration between researchers and clinicians
Developing innovative, safe, and effective diagnostic tools and therapeutic protocols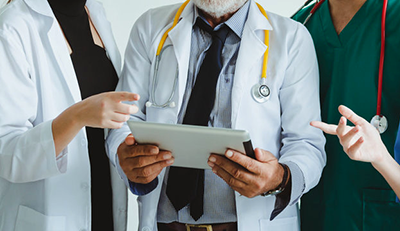 We are a professional organization for advancing the clinical use of peptides. There are many peptides that have incredible regenerative properties ranging from reducing inflammation, improving skin quality to improving the immune system. At our peptide conferences, we review the science and studies that have been done on peptides. Our monthly webinars have health care experts sharing their clinical experiences with the use of peptides. The only way we can advance this science is by sharing our experiences about the benefits and limits of each peptide.
June 3, 2023 at Hotel Kinetic in Orlando, FL
Discover the Power of Peptides – Introduction Class
If you are new in the world of peptides then this is the class you want to attend.  You will learn the top 5 peptides and many more to start in your practice right away.  We have taught many doctors around the county and outside the USA to use peptides safely and also correctly.  We look forward in seeing you in class.
Space is very limited so reserve your spot now.
NOW AVAILABLE – Online
Peptide Certification Class
Drs. Edwin Lee and Luis Martinez have taught hundreds of health care providers on the clinical use of peptides for many years.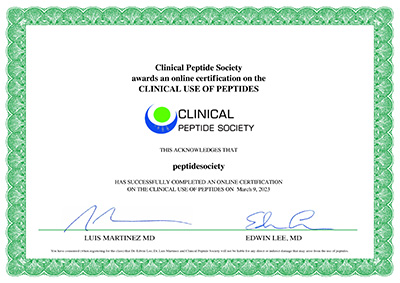 (It may take 30 seconds for the waiver to load up)
Regularly priced at 
$1,299
Introductory Price is $999 – Limited Time Offer
A lot of the feedback that we get is that our classes are practical and give the practitioners the knowledge they need on how to integrate peptides into their clinical practice immediately, rather than going to deep into theoretical biochemical aspects.
We have updated our slides and there are 10 different lectures covering a wide range of peptides to help with cancer, improving libido, cognition, focus and looking younger to name a few conditions.  The most important part of the class is to understand how to use the peptides.
If you are new to peptides, then you can start with easy to incorporate peptides such as  BPC 157 and GHK Copper. As you build your knowledge base and experience, you will start using another peptides, such as thymulin. This class is a wonderful foundation of using peptides and there are many more peptides out there to learn.  Have fun and learn the basics of peptides by taking this online peptide certification class.
We need your voice!
Sign the Petition to Save Peptides from the FDA and the petition will be sent to your 2 senators and your representative.
Our rights to medical care are being taken away from us.
Thank you for your donation to try to save peptides from the FDA.  However due to the costs of running a non for profit organization and the lack of any compound pharmacies in making a donation to save Thymosin alpha 1,  we have decided to discontinue the non for profit organization.  Someone else will need to try to raise money to save Thymosin Alpha 1.  Previous donations will be transferred to the American Red Cross.   The petition will continue and by signing the petition it will go to your representatives and your 2 state senators.  Hopefully the petition will dramatically increase and we can have our voice heard.
May 24th 2023 ~ Ask your peptide questions to Drs Lee and Martinez 

June 21 2023 @ 8pm~ Case studies using IGF-1 with Dr. Mark Gordon – date to be determined

July 19 2023 @ 8pm ~ Case studies with Neruoregenartive peptides with Larry Siegel

August date to be determined.  Bill Lawrence on Bio Regulators peptides
"My name is Matt Langan. I am a 5' 11" male. My normal, healthy weight is 155 lbs. In 2018, I was normal and healthy. In 2019, I was in a wheelchair, unable to walk on my own, and I weighed nearly 100 lbs. due to suffering from severe ulcerative pan-colitis. I tried every pharmaceutical option recommended and made available to me from gastroenterologists and nothing worked. I flew down to Orlando to see Rebecca Murray at the Institute for Hormonal Balance. A vital part of our protocol was the subcutaneous use of Thymosin and BPC-157 peptides. Within months of beginning the use of these peptides, I had gained 40 lbs. of lean muscle and reclaimed my health and life. To this day, over two years later, I remain asymptomatic and thriving. I used the peptides in conjunction with other nutritional supplementation and lifestyle changes but I remain convinced that they played a significant positive contributor to my healing journey. In my use of the peptides, they were beneficial, affordable and safe. I fear that if I were to flare again, if peptides are no longer made available, I may not be able to heal again. I also fear for those who haven't been able to heal using traditional pharmaceutical medications and need another option like peptides. If peptides are no longer made available to them, then that would be one less possible solution that they could pursue. Peptides saved and changed my life in a significantly positive way and need to remain available as a powerful healing tool."
The Fountain of Youth With Peptides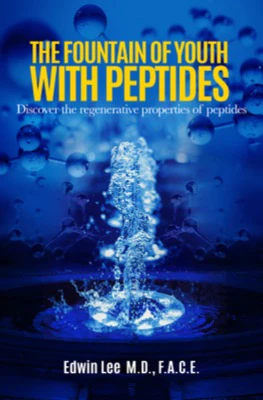 Discover the powers of regenerative peptides and learn how to restore your health with Dr. Edwin Lee's book, The Fountain of Youth with Peptides.
This is a comprehensive guide, which is well researched with easy-to-read topics on: looking younger, improving hair growth, strengthening the immune system, restoring lost libido and many more.
Written for the general public, it provides an extensive yet understandable summary for all of the latest scientific information on these amazingly regenerative peptides. Dr. Lee has authored many award-winning books, and his message is that peptides are here to help you and your loved ones.
Regenerative medicine is finally obtainable, and this book will show you the way.
"Unfortunately the FDA has implemented regulatory changes in the definition of a peptide less than 40 amino acid long and a "biological product".  One compound pharmacy has been restricted in compounding peptides like BPC-157, MOTS-c, Semax and other peptides.  It is predicted that other compound pharmacies will no longer be able to compound peptides since the peptides are not on the Bulk Compounding List (503a) although they have been nominated to be on the list.  The FDA created the bulk drug list and quickly closed nominations. They also limited hearings and often rushed hearings to not allow public comment.
As a result, the FDA is creating legislation and selectively enforcing it. Our long-term goal is to be a force in helping to make policy changes in the use of peptides in medicine. It will take a significant effort to get this done.  We invite everyone to become involved with savepeptides.org  and help us achieve this.  Imagine getting access to peptides that could significantly impact the health and wellness of you and your loved ones.