CPS Certified Providers
The listed health care providers have undergone a peptide certification class that is a 3 part series, of videos, questions on each videos, 8 hour review class and a final exam that needs to have a grade of 75% or higher to pass.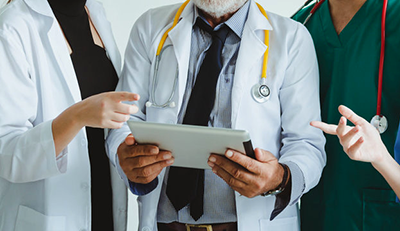 Doctors that are certified by Clinical Peptide Society
---
There are 
no guarantees, promises, or warranties of any kind regarding specific or general benefits, have been or will be made by Dr. Edwin Lee, Dr. Luis Martinez or members or advisors of Clinical Peptide Society.
Dr. Edwin Lee, Dr. Luis Martinez or members or advisors of Clinical Peptide Society is not responsible for, and shall have no liability for any success or failure, acts and/or omissions, the appropriateness of the participant's decisions, or the use of or reliance on this website.
Arizona
Dr. Melanie Icard NMD
Anti-Aging Clinic
5350 N 16th St Ste 107
Phx, AZ 85016
602-694-2835
www.phoenixantiaging.com
Kenneth O Anaeme MD
Arizona Weight Loss and Esthetics
2600 E Southern Avenue, Suite F2
Tempe, AZ 85282
480-603-6895
AZawesomelooks.com
Dr. C. B. Daniel
Cenegenics Phoenix
9060 East Via Linda Blvd. Suite 120
Scottsdale, AZ 85258
480-454-2371
phoenix.cenegenics.com
Tracy Daniel, PA-C
Business: Healthy Design
4995 S Alma School Rd #4
Chandler, AZ 85248
480-434-7595
HealthydesignAZ.com
Dr. Michael Hummel
1257 west warner rd Ste A4
Chandler, AZ 85224
chandlerregenmed.co
602-790-8348
Mary Ellen O'Brien NMD, FNP
2127 E. Baseline # 103
Tempe, AZ 85283
480-491-1716
www.drmeobrien.com
Angie Hammer, NMD
Wellspring Integrative Medicine
50 S Kyrene Rd, Suite 1
Chandler, AZ 85226
480-207-6489
Xan Simonson, NMD
Xan Medical Clinic
2600 E Southern Ave, Ste J2
Jennifer L. Smith, NMD
Silver Tree Wellness Center
16421 N Tatum Blvd Suite 210
Phoenix, Arizona 85032
602-675-0170
silvertreewellness.com
California
William M Carragher D.O.
7235 Santa Monica Boulevard
West Hollywood, CA 90046
323-874-9355
thebodywellusa.com
W. Michael Carragher III, MD
7235 Santa Monica Boulevard
West Hollywood, CA 90046
323-874-9355
thebodywellusa.com
Crystine L'Heraux, NP-C
1211 E. Embarcadero, D
Oakland, CA 94606
415-756-0816
ElimoMedical.com
Lisa Hunt D.O.
2232 E. Maple Ave.
El Segundo, CA  90245
310-375-2705
Colorado
Soyona Rafatjah, MD
1600 Broadway
Suite 1618
Denver, CO 80202
303-335-9092
www.PrimeHealthDenver.com
Deborah Sainer MD
New Spring Integrative Medicine
2942 Evergreen Parkway, Suite 450
Evergreen, CO. 80439
720-328- 8784
www.newspringmd.com
Debra Rouse, ND
Holistic Therapies
1301 Bergen Pkwy, Suite C
Evergreen, CO 80439
303-679-3402
www.drdebrarouse.com
Florida
Angeli Maun Akey, MD, FACP
Silverleaf Office Park
6224 NW 43rd ST, Ste A
Gainesville, FL 32653
352-332-4640
Agelessmedicalsolutions.com
Edwin Lee, MD, FACP
Institute for Hormonal Balance
7009 Dr. Phillips Blvd. Suite 150
Orlando, FL 32819
407-363-9665
www.DrEdwinLee.com
Brian Bozza, MD
Naples Wellness For Men
5495 Bryson Drive Suite 412
Naples, FL 34109
239-260-7806
www.NaplesWellnessForMen.com
Alex Joseph (Client Manager)
Human Performance longevity Center
13450 Parker commons Blvd. #107
Fort Myers, FL 33912
239-288-6541
www.floridalongevitycenter.com
Robert Bregman, MD
Royalty Care Med Spa
823 S. University Dr. Unit A
Plantation,  FL 33324
954-471-4924
Mariana Bubucea, MD
2500 E Hallandale Beach Blvd.
Hallandale Beach, FL 33009
954-395-2585
[email protected]
Georgia
Daryl O. Crenshaw, MD, FACP
334 Smith Avenue
Thomasville, GA 31792
229-227-1595
www.gakidney.com
Alexander Osowa, MD
Buford Family Practice
2805 Hamilton Mill Road
Buford, GA 30519
678-541-0588
Illinois
Dr. Catherine Johnson, MD
Precision Medical Care LLC
23 Walker Avenue
Clarendon Hills, IL 60514
312-343-4342
www.myprecisionmedicalcare.com
Nana Burchuladze, NP
Rejuvii IV
333 West Dundee rd 
Buffalo Grove, IL 60089
224-372-3747
https://www.rejuvii.com/
Indiana
Brian Miles, M.D.
284 N. Madison Ave Greenwood, IN 46142
317-727-2484
[email protected]
Louisana
Alan Arrington MD
New Orleans Age Management
8422 Oak St
New Orleans, LA 70118
504-330-2044
Minnesota
Shoua Theresa Thao Kalugdan, MD, MPH
9900 Tamarack Road
Woodbury, MN 55125
651-471-5800
Montana
Dr. Robert Lemley, ND, NCMP, ABAARM
Bridger Natural Medicine Clinic
1043 Stoneridge, Suite 1
Bozeman, MT 59718
406-585-0205
bridgernaturalmedicine.com
Nebraska
James T Biskup MD
Bellevue Family Practice / clinic
2206 Longo Dr. , Suite 201
Bellevue, NE 68005
402-292-9170
BellevueFamilyPractice.com
New Jersey
Gerard Pregenzer MD
65 Mountain Blvd, Ext
Warren, NJ 07059
732-469-9400
WHCWarren.com
North Carolina
Chris A Pate, MD
Biosymmetry
265 Racine Drive, suite 102
Wilmington, NC 28403
910-399-6661
2nd location:
2280 Hwy 70 West
Goldsboro, NC 27530
919-988-9332
Bruce Lantelme MD
Robinhood Integrative Health, Pllc
3288 Robinhood Road, Suite 202
Winston Salem NC 27106
336-768-3335
[email protected]
Nevada
William Clearfield D.O.
9550 S. McCarran Blvd., Suite B
Reno, NV 89523
775-359-1222
www.drclearfield.net
Julio L Garcia, M.D.
Regenerative Medicine Institute of Nevada
6020 S. Rainbow Blvd. Suite C
Las Vegas, NV 89118
toll-free: 855-786-2356 
local: 702-838-0571
www.rminlasvegas.com
Oklahoma
Michele L Neil DO, FACOI
Functional Medical Institute
Tulsa, OK 74145
918-748-3640
Oregon
Chris A. Kleronomos FNP-BC, (DAAPM), DAOM-L.Ac. RH (AHG), MSc., (ABAAHP)
Vida Integrative medicine and Behavioral Health
374 Owens St SE, Salem, OR 97302
503-399-1400
www.Vidameanslife.com
South Carolina
Mickey Barber, M.D.
Better Life Carolinas
Charleston, SC 29464
843-577-8484
Katherine Birchenough, MD
25 S. Laurens St
Greenville, SC 29601
864-214-5232
www.optimalselfmd.com
Texas
Russell S. Cravey, MD MBA
Kerrville Eye Clinic
1001 Water Street, E100
Kerrville, TX 78028
830-257-4417
www.drcravey.com
Patrick Proffer, MD
Matrix Age Management
1611 Wallace Blvd
Amarillo, TX 79106
806-352-1185
matrixagemanagement.com
Utah
Sharlene Watson ARPN
Rising Health Speciality Clinic
3018 East 3300 South
SLC, UT 84109
801-419-0705
Canada
Dr. Kin Leung, N.D., CPCC, FABNO, CHt, CFMP, CCS
Naturopathic Fundamentals Wellness Clinic
Unit 6104, 403 MacKenzie Way SW
Airdrie, AB 
Canada
T4B 3V7
587-360-1100
www.naturopathicfundamentals.com
Daniel JN Botha MD MBA
Dynamic Health Studio
601 – 67 Ave SW
Calgary, AB
T2V 0M3
Canada
587-966-5011
www.dynamichealthstudio.ca
Puerto Rico
Luis Martinez MD
Ave Felisa Rincon #300
Las Vistas Shopping Villages Suite 43
Rio Piedras, PR 00926
787-761-5880